VCI Paper, or Vapor Corrosion Inhibitor paper emits VCI molecules that settle on metal surfaces and form an invisible layer that protects from rust and corrosion. VCI Paper protects by interrupting the electrochemical corrosion process caused by moisture, oxygen, and contaminants in the atmosphere.
Related Products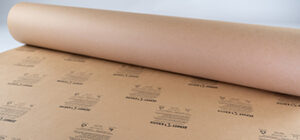 ZERUST® ICT®427 Premium VCI Paper is formulated to provide robust corrosion protection for demanding situations such as high humidity and challenging metal parts. Use ZERUST® ICT®427 Premium Paper in interleaving applications and to wrap and protect metals in shipment or storage.
ZERUST®/EXCOR® ICT®420 VCI Crepe Paper is a high-quality kraft paper saturated on both sides with proven ZERUST® corrosion inhibitors. The product integrates packaging materials with powerful Vapor Corrosion Inhibitors (VCIs) for ferrous metals, non-ferrous metals, and multimetal parts.