Problem
The world's largest construction equipment manufacturer contacted Zerust®, as they were looking for a corrosion control company with expertise in protection against rust and corrosion. They needed to solve a corrosion problem with oil pans made in Mexico that were experiencing rust during the shipment to the United States. The issue arose at the border, as US customs were unpacking every piece to inspect its contents. After the inspection, the VCI packaging was not properly replaced, causing the equipment to corrode during transit.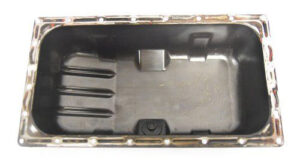 Zerust® analyzed the problem and realized that an inadequate anti corrosion packaging film was being used, along with a rust preventative that offered minimal protection and was so contaminated, that when the oil pans arrived at its destination, they had to add a washing and deoxidation process to clean the oil pans.
Solution
Zerust® proposed using Axxanol™ 34CD rust preventative oil, which provides a clean rust preventative coating that protects for up to 6 months indoors and does not leave any contaminating residues in the oil pans. This allowed the customer to eliminate the washing process when the piece arrived at its destination. Additionally, for the outside packaging clear Zerust® ICT®510-OPS Outdoor Preservation VCI Shrink Film was used, as its premium 8-mil, high strength VCI film provided durable protection and the transparent film allowed customs to inspect the parts without opening the packaging. This way the packaging remained intact and the vapor corrosion inhibitors stayed within the enclosure, retaining its protection.
| | |
| --- | --- |
| | |
The results with the new rust preventative and VCI film were noticeable to the end-user. They were receiving rust and corrosion free oil pans and they were no longer needing to wash the pans before putting into production. After the new corrosion management system was validated, the Zerust® packaging proposal became a specification.
Contact a Zerust® Representative for a comprehensive corrosion management solution most effective for your metal assets.