Problem
A company that engineers and builds sand core production machines for various industries delivered machines to a foundry customer. Unfortunately, the machines rusted because the customer waited to install them and left them outside without proper rust preventatives. The customer asked the equipment manufacturer to remove the corrosion and apply a corrosion prevention coating that would protect the metal from rusting while indoors until they could be installed.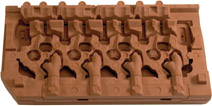 Solution
The manufacturer generously agreed to restore and protect the equipment for their customer. After trying different retail and industrial rust removers, they settled on a product they thought was adequate. Feeling they had addressed the rust removal, the machine builder contacted Zerust®, as they were looking for a corrosion control company to assist with the protection of the machines once they were restored.
A local Zerust® technical sales manager visited the machine builder's plant and presented different rust preventative sprays along with appropriate spray equipment. Several workers applied the products to test surfaces, looking for the desired coating weight and consistency while considering the duration of protection. They chose Axxanol™ 34CD as a rust preventative that offers robust protection with a nearly dry-to-the-touch surface.
Although the equipment manufacturer thought they already had a sufficient rust remover, they agreed to try Axxaclean™ 2048 gel. The workers were impressed at how safe, quick, and easy it was to remove rust with 2048. They also liked that they could use the gel on the vertical surfaces of the machines they needed to clean.
The manufacturer was pleased that they had gotten all their VCI bags, rust preventative oils and rust remover from a single Corrosion Prevention Manufacturer: Zerust®. It was an important benefit to products backed by experts in corrosion. The company was so eager to proceed with Axxaclean™ 2048 gel and Axxanol™ 34CD that they placed a credit card order before the technical sales manager left the facility.
The Zerust® technical sales manager checked in with the customer to see how the new products were working and the customer had this to say:
"It was great that you were able to bring me a complete solution to my current equipment issues.  Even though I didn't know that is what I was looking for.  Rust cleaner was a great bonus.  Our spare parts department has asked for some of the products to fix rusty parts we have in inventory.  They have been wire wheeling them in the past.  Then spraying with WD-40 to ship them out.  Your products will definitely save them some time.  We are shipping the first core machine protected with Axxanol 34CD tomorrow.  I feel much better on how it will arrive at our customer."
"Things went very well at our customer's.  It took just over an hour to clean and protect each of the machines.  The products worked great and are a new tool in our toolbox.  Since then we protected 3 machines that we have shipped out.  All here feel better knowing we are sending out an improved product. Thanks again for all the help."
Contact a Zerust® Representative for a comprehensive corrosion management solution most effective for your metal assets.