Problem
A global supplier of brake, chassis and drive components to the automotive industry was experiencing rust issues with components shipping within North America.  Their method of protection when Zerust® was called in, consisted of the use of a competitor's open cell VCI Foam layered within the dunnage. A local Zerust® representative visited the customer's facility to review the issue the customer was having. During this visit, it was determined that the competitor's VCI Emitter  presented several issues regarding automotive corrosion protection requirements of clean, dry and corrosion free parts.  The foam was "wet" with Vapor Corrosion Inhibitor which was displacing onto the surface of the components and was not providing enough Volatile Corrosion Inhibitor to protect the parts.
Solution
The customers wet parts and rust problem was easily solved with the implementation of custom sized Zerust® ICT®570 VCI Foam sheets. Zerust® provided samples for the customers testing and validation process, which provided successful results and took less than 2 weeks to complete.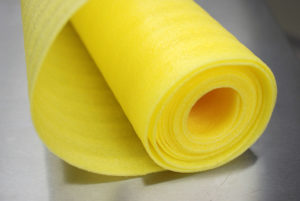 After the implementation of the Zerust® ICT®570 VCI Foam sheets, the customer's rust problems and wet component problems were eliminated, and their customers began receiving clean, dry, and corrosion free components. Contact your Zerust® Representative for a comprehensive corrosion management solution most effective for your metal assets.