Problem
A premier supplier of high-quality engineered equipment for the waste water industry faced challenges with shipping new products to a Southeast Asia country. They needed a solution to protect very large drive housings from rust and corrosion during their long ocean transit. Each drive housing also contained an enclosed worm gearbox which required additional protection as well since they would not be filling it with oil prior to shipping.  They were looking for rust inhibiting solutions to protect the entire outer drive housing, which was 80" in diameter as well as the inner components of the worm gearbox.  All components in question were ferrous metals made from cast iron or high carbon steel and are known to be highly susceptible to rust from exposure to ocean atmosphere.
Solution
For inside of the worm gearbox, it was decided that the best solution to protect the internal gear components was to use the Zerust® Axxanol™ 707C VCI oil additive.  They would be able to spray a small amount of the additive into the gearbox prior to closing the cap.  The powerful VCI (Vapor Corrosion Inhibitors) from the Axxanol™ 707C will fill all the void space inside of the gearbox and protect the metal surfaces from rust and corrosion during shipping and storage.  Because the Axxanol™ 707C was specially designed to be used with lubricating oils, the customer would not need to drain it prior to filling the gearbox with the required lubricating oil for use.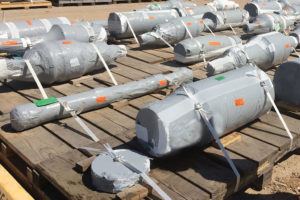 For protecting the outside of the drive housing, it was decided that the best solution to accomplish this was to completely shrink wrap them using Zerust® ICT®510-OPS (Outdoor Preservation Shrink) VCI film.  This premium shrink film was selected due to its high strength polyethylene resin formulation that also incorporated 3-year UV stabilizers, as well as Zerust's proprietary VCI to protect ferrous metals from corrosion.  The application of the Zerust® OPS shrink film did not take any longer to implement when compared to the traditional non-VCI shrink film they were accustomed to using on the drive housings.
The customer's recent first shipment from the Midwest of the United States to Southeast Asia was a success!  No rust or corrosion was found on or inside of the drive housing and worm gearbox.  The customer will now implement these products and procedures for all future overseas shipments. Contact your Zerust® Representative for a comprehensive corrosion management solution most effective for your metal assets.