Zerust Technology Solutions
Zerust® corrosion engineers go beyond VCI technology by offering a comprehensive system called Integrated Corrosion Technologies (ICT®). ICT is our term for the various material and chemical sciences that comprise our Zerust packaging product system including VCI (Vapor Corrosion Inhibitor) technology. Depending on the corrosion protection requirements and economic targets, Zerust products can be designed in one or more of the following combinations to provide the optimum corrosion protection system.
Zerust Proven VCI Technology
This technology is generally known in the industry as volatile or vapor corrosion inhibiting technology ("VCI"). Zerust VCI is primarily made of approved non-toxic and safe food preservatives. The Zerust chemical molecules are deposited from the Zerust packaging material onto the metal surfaces and form a powerful molecular layer that passivates the metal surface and protects it from corrosion. This layer is invisible, dry and does not affect the physical properties or functionality of the metal in any way. The protected metal can be painted, treated and/or used straight out of the Zerust package without further cleaning.
Zerust's Top VCI Products:
VCI Poly Bags and Film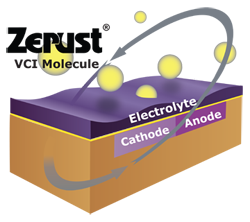 Vapor Capsules, Emitters and Diffusers
VCI Packaging Paper
Physical material design and selection
The Zerust team will help you select the most optimum packaging material and design to meet your corrosion protection needs. The material may vary from barrier film, such as aluminum, to regular low density polyethylene depending on economic targets and performance requirements.
Chemical scavenging technology
Depending on the corrosiveness of the environment, the Zerust team may also incorporate our patented chemical scavenging technology into the selected base packaging material to neutralize any acid gases and prevent them from coming in contact with metal components sealed inside the package.